Gutter Cleaning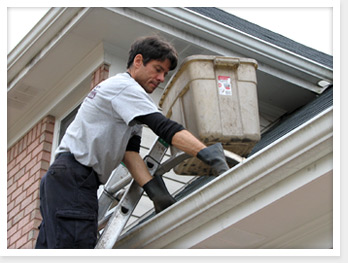 Best Home Services has provided professional gutter cleaning since 1991 in and around Athens, GA. In that time I've learned how to do the job quickly, neatly and thoroughly. Most importantly, I professionally and safely complete a job that can be risky and dangerous to the typical homeowner. I have an outstanding safety record for both personal injury and damage to property.
Every ladder on the truck is equipped with a stabilizer bar which makes the ladder placement rock-solid and prevents the ladder from ever touching and damaging your gutters.
Free estimates are available to the Athens area or by phone to the surrounding areas.
Best Home Services carries General Liability and Workers' Compensation insurance. Certificates of Insurance can be made available to you on request.
The Best Home Services gutter cleaning process:
The roof is cleared of any accumulated leaves and debris with a blower
The gutters are cleaned out by hand. When appropriate, 18 gallon buckets are used to collect the debris to keep the areas under the gutters clean.
The downspouts are checked at the top and the bottom for clogs. In most cases clogs can be removed at no extra charge.
Your decks and walks are blown of any leaves or debris that have fallen on them as a result of our work.
We can also provide other services while cleaning your gutters such as:
cutting tree limbs to protect your roof and gutters

changing flood light bulbs

making some minor repairs to shingles, gutters and downspouts.
Regular service is available. If you request, your house will be put on the schedule automatically without you having to call. The work will be completed and an invoice left. You can mail in a check at your convenience.